cake flavours
Vanilla

Chocolate

Vanilla / Chocolate Swirl

Mocha

Maple Pecan

Lemon

Coconut

Vanilla Rainbow Sprinkle
buttercream filling flavours
Vanilla

Chocolate
Mocha
Strawberry
Blueberry
Apricot
Cherry
Caramel
Chocolate Hazelnut
Pistachio
Coconut
Cinnamon
Cookies & Cream
Peanut Butter
Almond Butter
Cookie Butter
With so many flavours to choose from the combinations can be endless. I've simplified things by including my most popular flavour combinations. It's important to note every single one of my flavour options uses only the freshest ingredients and never artificial flavours.
popular flavour combinations:
Vanilla Cake with Strawberry Buttercream - Popular Classic
Chocolate Cake with Chocolate Buttercream - Rich & Decadent
Mocha Cake with Mocha Buttercream - Coffee Lovers
Lemon Cake with Raspberry Buttercream - Very Fresh & Light
Coconut Cake with Coconut Buttercream - Bring the Tropics Home!
Still too difficult to choose?
Unsure which flavour suits your event best? To-go cake tastings featuring my 5 most popular flavour combinations are available for order. Inquire for more information and availability.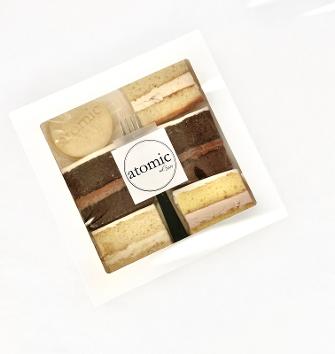 © Copyright Aleksandra Tomic - Atomic Design